Welcome to the world of Laramy-K Optical, a different kind of optical wholesale lab. From the beginning, Laramy-K Optical has been dedicated to serving the independent practitioner. By remaining one of the only exclusively uncut laboratories in the U.S., we cater to dispensers as committed to their customers as we are to them. We have been called renegades by some and crazy by others. Perhaps, we are a little of each because we take being independent very seriously, without taking ourselves that way. Years ago, in deciding to turn down a Varilux distribution contract requiring us to recommend a single brand over all others, we sacrificed profits for principles. Still today, loyalty to our customers comes before loyalty to any manufacturer.
Trust
We recognize accurate and consistent lens processing is essential to your business and is therefore our most fundamental business requirement. However, our mission only begins there. At Laramy-K Optical, we believe relationships are built on trust, which is why treat all of our customers as partners and are proud to consider many our friends. We realize that we can only succeed if you succeed, making your business needs and ultimately your patients' sight our foremost concern. Moreover, we strive to be a valuable resource not only for our customers but for the entire independent optical community in the face of unprecedented challenges threatening its very existence.
Innovation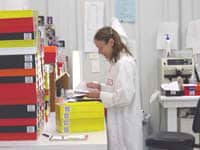 We believe we are the best at what we do and we are constantly in search of ways to innovate and improve. To meet the needs of our customers, Laramy-K was one of the first independent labs to commit to processing in-house AR and today we are again leading the way with our own digital freeform surfacing equipment . To that end, your input, suggestions, and feedback are always welcome, encouraged, and necessary. We are not afraid to try new things to find a better way and will strive to be attentive to your needs, even if they are out of the ordinary.
Laughter
We are not afraid to have fun, laugh at ourselves, or laugh at you, if you deserve it. In the sometimes maddening optical world, laughter often saves the day, or at least helps take the edge off.
Gratitude
Not a day goes by that we are not grateful for the blessings of our profession, the strength of our team, the support of our families, and the friendship of our customers. Thank you for being part of it.
The Laramy-K Optical Team