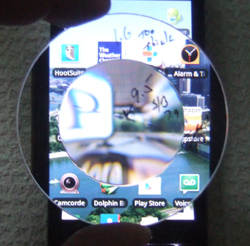 About three months ago, Essilor and Signet Armorlite (AKA Essilor), the only major manufacturers of high plus aspheric lenticulars discontinued production both single vision and bifocals.
For those of you unfamiliar, high plus lenticulars have often been prescribed for patients with aphakia. Aphakia is a condition where a patient's eye is missing the lens. Aphakia can occur as a from a congential defect, injury, or most often as a result of cataract surgery.
Used to obtain a steeper curve than would normally be possible while still fitting into a frame, the lenticular is formed by placing the higher curve known as the aperture within a flatter curve known as the carrier. The result is a "fried egg" appearance. The carrier permits a steeper-curve plus lens to be cut out and fit into the frame.
While it's true that advances in surgery, implants, and contact lenses have virtually eliminated the need for high plus lenticulars, there is still a small percentage of patients, particularly among the very old and very young, not suitable for these options that can still benefit from lenticulars. Since there still is a need we've managed to locate an independent manufacturer.
Aspheric lenticulars are now available in single vision: CR-39, aspheric lenticular +14.00 to +20.00 base; and bifocal round seg 22s +14.00 and +16.00. Adds are available +2.50 to +3.50. More curves and add powers will be available within the coming weeks. Feel free to call with questions: 800.525.1274.