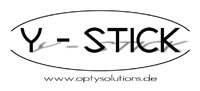 Y-Stick ($199.95) assists the optician, using the traditional manual method of marking the fitting crosses. The measurement is consistent; as long as the customer assumes the same body posture, the measurement will be the same. Any subjectivity on the part of the optician has been removed. Y-Stick lets you see what is really happening - and that is what you get!?

Quicker than a video/PC based system, simple to use for everyone and a fraction of the price, Y-Stick 2 measures the natural pupil heights away from the stress of the camera. If you own a video system consider using Y-Stick 2 to quickly check the video measurement, it only takes a minute and is worth every second.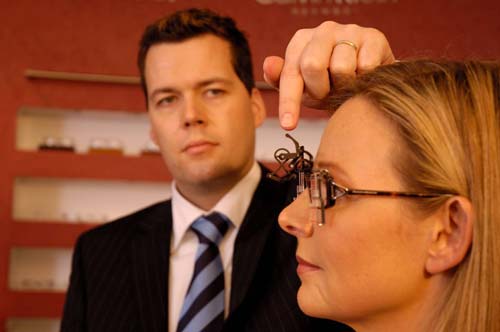 Y-Stick 2 addresses four main concerns when measuring pupil heights for progressive lens fittings.
1. What is the natural posture and head position?
2. Where the optician is shorter than the patient, getting onto the same eye height is not possible. In such cases the measurement is made in a seated position causing the patient to adopt a different body posture.
3. Parallax! It is very difficult for the optician to judge if he or she is exactly on the patient's eye height when marking the pupil dot on the demo lens.
4. Consistency. If three opticians were to measure the pupil heights for the same patient, typically there would be three different measurements! Are all three correct?
Y-Stick 2 is available from Laramy-K Optical for $199.95. Order the Y-Stick here.
Read more:
How to dispense with the Y-Stick 2