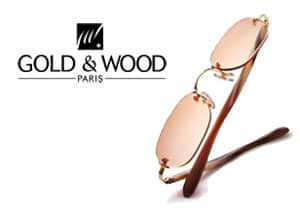 Intrigued by wooden eyewear frames, the folks at Treehugger.com decided to look at what goes into a pair of luxury Gold & Wood frames. While the trend toward greener products and processes has not yet taken hold in the eyewear industry, Gold & Wood gets a tacit stamp of approval from Treehugger.
Each Gold & Wood frame is still hand-crafted and assembled in Luxemburg, taking as many as three days to form a single pair of temples. Gold & Wood obtains their exotic woods including ebony, bubinga, rosewood, purple heart, and Brazilian kingwood only from accredited, sustainable forests. Wood frame components are comprised of 8 sheets of laminated veneer bound with hypoallergenic and biodegradable resin. Their buffalo horn is a by-product from cattle farms obtained via a process that is not harmful to the animals.
Curiously, however, Gold & Wood has not positioned itself as a green company. With the growing trend toward green business, I am surprised to not see optical companies following suit. Do you know of any optical companies going green or marketing their greenness?