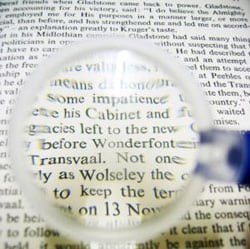 A recent study was conducted by Cynthia Owsley, Ph.D., M.S.P.H., University of Alabama at Birmingham that highlighted the link between uncorrected vision and depression in the elderly. Moreover, the percentage of nursing home residents with vision impairment may be up to 15 times higher than those outside of nursing homes.
The researchers concluded "This study implies that there are significant, short-term quality-of-life and psychological benefits to providing the most basic of eye care services - namely, spectacle correction - to older adults residing in nursing homes. These findings underscore the need for a systematic evaluation of the factors underlying the pervasive unavailability of eye care to nursing home residents in the United States so that steps can be taken to improve service delivery and eye care utilization."
With the aging baby-boomer population and the alarming increase in obesity and diabetes there looks to be a significant gap in vision correction and low vision to be filled in the next 15 years.
Low vision resources: