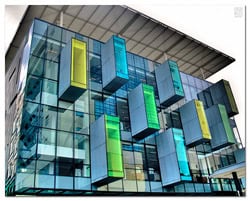 We've made a significant number of changes to the Lens Availability Database with this latest release which we are now finally calling a beta. Many of the changes made were on the backend improving the data handling and uploads. These changes should be evident through increased accuracy and number of lenses displayed.
A few asthetic changes were also made including row numbering and contrasting row shading. We are also making headway on cleaning up and standardizing multifocal naming.
Perhaps, most notably, names and terms in the search results are now linked to wiki pages on openoptix.org. This allows optical community members to add and maintain related information beyond what is available in the application for the benefit of themselves and others. While I've started creating skeleton wiki pages and populating others, not all terms are linked to active pages. However, creating a page is simple enough, so feel free to create your own or add information to an existing page. In fact, please do, this is what it is there for. To simplify creating a new page, you can and edit and copy the code behind existing pages to start with a basic format and add your own information. Wiki help is availiable on openoptix.org or on wikipedia.org.
One more thing on editing wiki pages: while you are allowed to edit pages without registering and logging in, I would ask that you consider doing so. This will facilitate future communication and collaboration among people interested in participating and building the wiki.
I truly hope you can use and enjoy the new features. Still more to come.
Let me know, if you have any questions, comments, or suggestions.
Happy Holidays!