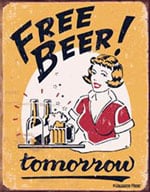 The feature article in this month's Eyecare Business magazine declares offering free optical services such as frame adjustments, nose pad replacements, screw tightening, etc. is bad for business. The author argues that these value-added services somehow diminish the value of the product and take away from the bottom line, also suggesting opticals should come up with a fee schedule for everything from adjustments to missed appointments. For justification, the article makes a comparison with "other healthcare segments" (which we all look to as the beacon of customer service, right up there with cable companies and cell phone providers).
Maybe I am missing something, but I cannot quite get my head around how value-added services can diminish a product's value. I purchase my tires at Costco because I know I will get them at a good price and I get free balancing, rotation, and flat fixes for the life of the tires. Not only do the freebies leave me with a higher perceived value, they keep me coming back to a store where I love to shop. …and what else am I going to do while I am waiting for my tires to be rotated?
Keep in mind there is no more powerful form of marketing than word of mouth and the only way to get your customers to talk about you is to exceed their expectations. Free nose pads alone may not have everyone in town running back to your store to buy glasses. However, if you use your services to enhance the customer experience, to make your customers feel special, and to encourage them to return often, you may end up with more new business than you know what to do with. Frequent visits for minor tune-ups will not only help you build relationships, community, and loyalty, but they will also give you an opportunity share new products.
Will people abuse free services? Of course they will. Will free services make loyal customers out of everyone who walks in the front door? Obviously not. But who cares? It takes a lot of nickels and dimes worth of free screws and nose pads to equal a single loyal customer who takes it upon herself to tell everyone about your dispensary.
Instead of charging a fee for every conceivable service, figure out how you can take your free services to an entirely new level. Consider coming up with a written fee schedule as the Eyecare Business article suggests. Whether or not you decide to post signage depends on your store. Then "break the rules" as often as you wish to make your customers feel special. Offer a gold VIP card to your customers when they purchase eyewear. Not only does the VIP card entitle the bearer to free services, discounts, what ever you come up with, but hand them a travel mug with your logo on it that entitles them free coffee any time they stop by (make sure the coffee is exceptional). Not only will this build community and loyalty as I mentioned above, but people will notice the additional foot traffic coming through your doors. Every morning a customer stops in for coffee is a morning they're drinking coffee at work in a cup with your name on it. More importantly, it gives them a reason to talk about your store with their coworkers. Compare that with an ad in the newspaper.
The point here is to be creative, don't be afraid to different. Different gets people talking. Focus less on selling goods and services and more on providing a remarkable customer experience. Finally, consider any costs associated with the customer experience you create to be well-allocated funds from your marketing budget.
I was inspired to write this post by Deborah Chaddock Brown's comments on the very same article over at Bizinformer. Thanks Deborah.