IOT Lenses? The Technology Behind Integrity Freeform Lenses  for Independent ECPs
IOT and Laramy-K - Partners in Independence
IOT doesn't actually makes freeform lenses. IOT produces the technology that allows independent labs to create IOT-branded or in-house branded lenses. And while any freeform lab can produce IOT lens designs, no other lab can produce IOT-designed Integrity lenses.
Here's why:
For nearly a decade, not only has Laramy-K partnered with IOT to produce our Integrity freeform lenses but, we are also proud to serve as both an IOT test lab and  production lab for IOT wearer trials.  
IOT (our 'lens architects') and Laramy-K share the belief that the ophthalmic lens industry does not benefit from the dominance of a few giants i.e. "Big Optical".
As a small company, with the ability to provide technically superior lens designs, IOT helps Laramy-K stay "fiercely independent."
We produce IOT lens designs to exacting Integrity brand standards, giving you the quality and differentiation you need to "wow" your customers and help grow your optical business.
IOT-designed Integrity Lenses are the undisputed freeform lens of choice of Laramy-K Customers.
98% of Laramy-K customers choose IOT-designed Integrity lenses over Big Optical lenses to help set themselves apart from their competition.
Which IOT designs are used for the most commonly used Integrity Lenses? 
Integrity
IOT Designs Made with Love
Rebel [Di] Basic
Rebel [Di] Advanced
Rogue [Ne] Basic
Rogue [Ne] Advanced
Resolve [Ba] Basic
Resolve [Ba] Advanced
Renegade [In] Basic
Renegade [In] Advanced
IOT Technologies
Equivilent
Distance

Distance (Personalized)

Near

Near (Personalized)

Balanced

Balanced (Personalized)

New Wearer / Intermediate

New Wearer / Int (Personalized)
What do the different freeform lens technologies, Basic, Advanced, and Camber mean?
Integrity Freeform Lens Technologies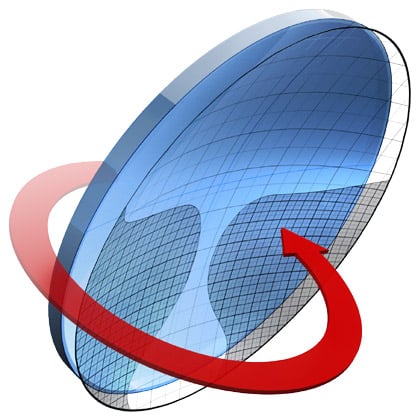 Basic
Basic is the entry-level technology to make digital lenses. Progressive lenses made with this technology will have the progressive surface on the back of the lens, and a simple curve, typically a sphere, on the front side. The progressive surface is calculated using IOT's Steady Methodology providing improved performance over conventional progressive lenses, with the accuracy and flexibility of the digital freeform process.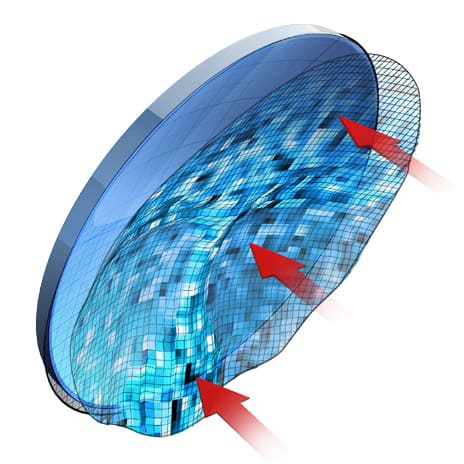 Advanced
The most advanced technology to make digital lenses. Advanced-level technology uses both  IOT's Digital Ray-Path® 2 and Steady Methodology to take into account the real measured or default wearer position of the lens and the natural movements of the human eye. The result of this innovative calculation method is a progressive lens that is personalized and provides better vision in all zones of the lens.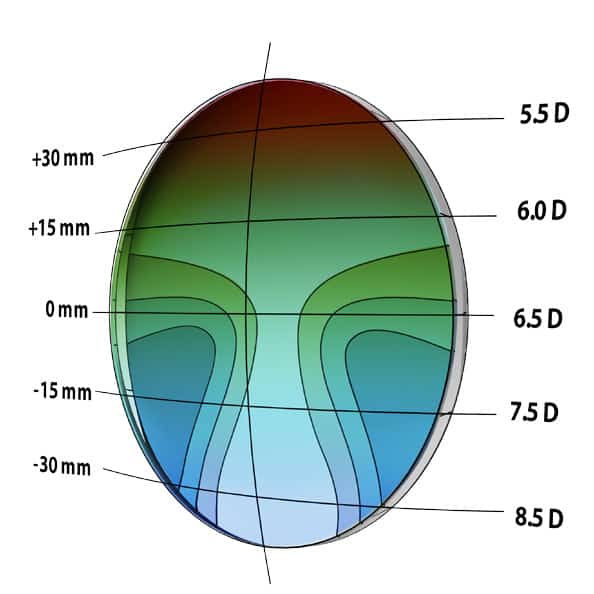 Camber
Camber Technology combines the Advanced technology with the unique, continuously changing surface of the specially designed lens blank allows expanded reading zones with improved peripheral vision. When combined with a back surface design using IOT's Digital Ray-Path® 2 and IOT's Steady+ Methodology, both surfaces work together to accommodate an expanded power range, offer better cosmetics for many prescriptions, and yield user-preferred near vision performance.
Steady Methodology
Learn More
Digital
Ray-Path 2
Learn More
Camber
Technology
Learn More
I was introduced to Laramy K Optical Lab, when I started at my current position a few years ago. The doctor expounded on the quality of their IOT lenses and their technical ability. (I had come from a strictly Varilux practice.) The lenses are amazing, and I have no trouble transitioning my patients over to them.
The technical skills of their lab team is OFF THE CHARTS! Not only can you speak directly with their lab manager, he will guide you with solutions to your patient's needs based on his experience. He was also the only person out of 7 labs that was able to do a split prism Rx for a unique pair of glasses, when everyone else said it couldn't be done!
In this day and age of call centers, remote service people, reduced and outsourced staff and long waits on hold, it's refreshing to get a friendly and knowledgeable live voice on the other end without going through six phone menus.
Digital Ray-Path® is the ray-tracing technology used by IOT to minimize oblique aberrations in their personalized and compensated free-form lenses. The next generation, Digital Ray-Path® 2, uses the wearer's accommodative ability in it's calculations to broaden the area of clearest vision through the lens. The first lenses to be designed with Digital Ray-Path® 2 are the Endless and Endless Plus.

All About Digital Ray Path 2
In this video, we talk with Tina Lahti, VP of Marketing and Sales for IOT who gives us a masterclass in IOT's new freeform lens technology, Digital Ray-Path® 2. In this discussion, we cover: What is Digital Ray-Path® 2? What makes DRP2 special? How to present the new technology to customers? and What you need to know before ordering and fitting lenses designed with DRP2? We also discuss the first two lens designs available with DRP2: The Endless and the Endless Plus.
An Interview with Daniel Crespo, President of IOT
John Seegers: I just want to say that even after years of writing for the optical industry I think that this piece, and the one before it on Quantum, are pretty special. I would encourage you to read them carefully and learn from them. You are being offered unique access to some extraordinary people. These pieces are genuine and not, like so much of what you see, an ad disguised as an article. I'm proud of what we can offer and I hope you can see the tremendous value it has. Thanks, John
Indizen Optical Technologies, or IOT, is a behind the scenes company that many know little about. IOT is the company that creates the software, that in turn runs the hardware, to manufacture free-form lenses.
IOT has two locations. Their European Headquarters is in Madrid, Spain. Their US headquarters is based in Los Angeles, California.
John: Could you tell me a little about how IOT got started?
Daniel: IOT started in 2005 as a spin-off from the University Complutense of Madrid. It was founded by myself and two of my professors, Jose Alonso and Antonio Quiroga. We are all physicists from the Applied Optics Department. With the advent of free-form, we thought that it would make a lot of sense to start an independent company that could provide optical software and know-how to independent labs. When a lab has free-form technology, they have the capacity to make the best lenses in the world. The only thing they are typically missing is the in-depth know-how about lens design and optics, and we wanted to provide that.
It took us 3 years to develop our technology and our first designs. We had our first customer in Europe in 2008. After that, in 2010 we met the owners of Younger Optics. We liked each other immediately, we shared the same values and a similar view of the industry and its future. Younger invested in our company, becoming the majority owner. With their help we have been able to grow to be one of the major providers of lens designs in the industry.
We help our customers worldwide make over a million lenses each month. We feel very proud of that.
John: Not to take anything away from the mechanical engineers, I am forever in awe of them (heck they are my heroes), but IOT is sort of the brains of the process. Can you tell me about the minds behind the designs and don't be shy about it?
Daniel: We have a group of over 40 physicists, mathematicians, optometrists and engineers based in Madrid and in LA that are constantly improving the software and the designs. We try to have the most complete portfolio of designs and the most flexible technology, so our customers can make the most out of all that free-form has to offer. That means being able to make any conceivable lens design on any material for any prescription and any frame shape and size. The software should never be a limitation, it should be friendly and easy to use and integrate with the Lab Management Software (LMS).
We also work very hard on learning more and more about lens designs directly from wearers. We are making wearer trials constantly, seeing several patients a day both in Madrid and LA. We are trying to find answers to the key question in ophthalmic optics: how do you choose the best lens for each wearer?
John: Most of us are familiar with our PCs, tablets and smart-phones. Can you give us an idea of the computing power it takes to design a free-form or digital lens concept?
Daniel: Well, we use a cluster of around 30 servers to develop each design. It can take us one day to compute one whole new design. Now, another different story is that the design you get out of your calculations is what you want. Making a design is a little of an art. The experts developing a new design will test many alternatives until they find something that has the right desired balance between different visual fields, corridor length, unwanted astigmatism and so on.
John: I think we have all read a thousand and one articles about free-form now. I think we all have some idea of what sets them apart from what we had for the forty years before their introduction. As one who designs these lenses, what do you see as the most significant difference?
Daniel: For me, the greatest advantage of free-form is that you calculate the surface of the lens once you have all the information about that particular job. You first know the prescription, addition, material, base curve, frame shape and orientation, then you can make sure that you are computing the best lens for that wearer. Before free-form, a progressive lens was cut on the semi-finished blank, and the way that lens was going to behave once it was cut to an individual prescription and was put on a frame was impossible to predict. And the result could be less than optimum for many wearers.
John: With our knowledge of physics and within the confines of our universe will we ever see the "perfect" progressive?
Daniel: There is not such a thing as the perfect progressive. A progressive lens will always have a compromise between different aspects. If you want a shorter corridor it will always be narrower, and you will always have unwanted astigmatism to the sides of the corridor that will depend of the addition and length of the corridor.
In a certain way, all the modern progressive designs are as good as they can be. Mathematically, they all reach the best possible solution for a given compromise. But each wearer may prefer a different compromise. Some may value more the clarity of their distance vision, or the width of their near region.
The main question is: How do you select the best lens design for each individual wearer? That is where we all have to work together, the lens designers, the labs, the doctors and the ECPs. And a key factor is providing a lot of communication with honest, precise information about the characteristics of every lens. I think in this sense independent labs tend to be very good. They don't rely on powerful brand names and magic words, but on being honest and close to their customers.
If you ask me about the future. We may see break-through lenses that can incorporate different materials on the same lens, or active materials. Some day, there will be a good lens that will adjust power when we want to look at different distances. There are even some prototypes out there today, although I think we are far from the final solution. Eventually, there will be artificial crystalline lenses that will behave as well as healthy, young, natural crystalline lenses.
John: As you know we strive to think differently here at Laramy-K. We are always seeking win-win in every business interaction we have. Can you talk a little about dealing with the integration process with all the many different equipment manufacturers? Do you have a philosophy or process to make it all work?
Daniel: At IOT we try to put a lot of emphasis on technical support. We cooperate very closely with the LMS providers, to make sure that our software will work perfectly in any lab, with any kind of machinery. Nowadays, everyone has the same machines, and very similar designs.
We also have a strong support team, based both in Madrid and LA, that works constantly with our customers to make sure that we are all making the best possible lenses. But some are making very good lenses and others are very bad. The secret is that to make good lenses, you need good basic ingredients: good machines, good blanks, good designs and a good lab team.
The secret of making fantastic lenses is an excellent lab, like Laramy-K. Only your independents are free to put a lot of care in all the little things like cribing sizes, thickness, prisms, decentration, etc. It is the sum of all the little ingredients that makes a great lens.
I have known Laramy K and their work for many years. I have had the pleasure to work with them in so many projects driven by innovation in the manufacturing and testing of lenses for eyewear.
I have chosen to work with them so many times is because I know that their level of care about what they do shows in the quality of their products. They have the best attributes that I can think of for an independent optical lab: passion and pride for their quality work, knowledge, experience, and state-of-the-art technology.