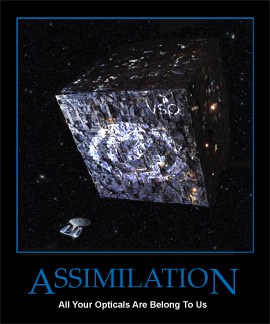 So, it's now been reported by Vision Monday and picked up by our friends over at Eye Overheard (edit: and now a thread on Optiboard), an example of the seemingly quixotic behavior I mentioned in my last post; our fellow OSI laboratory, Nouveau Vision a small lab in Redmond Washington – for all intents and purposes the last independent laboratory in the state of Washington – having been recently dropped by VSP, is filing suit against VSP and Essilor of unfair trade practices.
In their letter to the Governor, Nouveau cites unreasonable contracts as an example of unfair trade practices, specifically the clause of the Varilux distributor contract which states:
"Any activities of Distributor to advertise, promote, or sell to ECPs any PAL other than Varilux Products as Distributor's preferred treatment for presbyopia…shall constitute a breach of this agreement."
In case you were wondering, this statement (and others like it) is precisely why Laramy-K Optical has never distributed or processed Varilux lenses in the nearly twenty years we've been in business.
We applaud the fact that someone (Tim Sutich) has the courage to make this kind of stand against Essilor and VSP, particularly in these difficult economic times.
If you own a lab that has been terminated by VSP or subjected to unfair trade practices by either Essilor or VSP, Tim is willing to share what he has learned and help in any way he can. He is actively trying to get other states involved in legal action. Tim has also established a legal defense fund. He can be contacted at 800.365.3611.